The grading system for Auction Houses is important to understand as auction sheets provide valuable insight for buyers looking to bid on vehicles at Japanese car auctions.
The system grades cars based on the condition and quality of the vehicle. At Moana Blue, we're committed to helping importers understand the whole auction process. In this guide, we'll take a detailed look at auction sheets and their grading to help you make informed decisions.
Why Auction Sheet Grading Matters
Auction house grading systems use a standardised method to help grade the vehicles which is often shown on an auction sheet. The grades are typically based on the condition, mileage, and overall quality of the vehicle.
This will help you understand the vehicle before you spend money at the car auctions. Understanding the auction grade meanings is important as it helps the buyer know the value and potential of the vehicle before they bid, lessening the risk of an issue.
Common Auction Sheet Grading Systems
Different auction houses can use different grading scales usually a mix of letters and numbers, often shown on an auction sheet. Each auction house also has different reporting formats, but the basic information is still the same. By learning the different codes it'll become easier to read an auction sheet.
Auction Sheet Grading Factors
The different factors that they grade the vehicle on usually depend on the:
Exterior: Paint, body condition, and signs of wear.
Interior: Upholstery, dashboard, and general cleanliness.
Mechanical: Engine performance, transmissions, and potential maintenance needs.
Mileage: The distance the vehicle has travelled.
Extras: Features and options that elevate the vehicle's value.
The Auction Sheets Numerical & Alphabetical Grades
What do the numbers mean in grading?
Vehicles are assigned a numerical grade on a scale from 0 to 6, where 0 represents the lowest condition and 6 indicates the highest. Occasionally, vehicles might receive a grade of 3 or 3.5 due to minor accidents that were necessary for repairs.
These instances are marked with an "XX" on affected panels in the grade sheet and are typically detailed in the auction sheet's notes, often in Japanese.
Auction Sheet: Table of Numeric Grades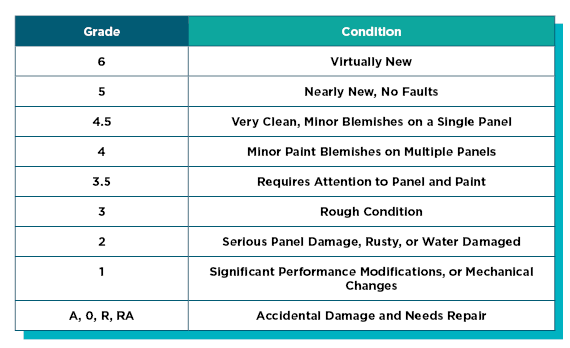 Using Letters to Grade the Interior
Interior conditions are assessed using letters with:
D: Signifying the least favourable condition
A: Denoting the best condition.
Additionally, auctions incorporate an extra letter to identify the vehicle's body condition further. For example, a report could read "3 C B" which would indicate a good vehicle, with an average interior, and a good body.
Understanding these grades is a must when selecting vehicles to import. Vehicles graded A are typically in almost-new condition being virtually new, B signifies a very tidy interior with minor marks and C often represents an average condition.
While C can sometimes signify a vehicle with decent conditions, it might indicate signs of stains, wear, and tear at other auction houses. These attributes are common in vehicles older than 10 years. However, for vehicles under 2 or 3 years old, such concerns are usually minimal.
On the flip side, D grades are typically assigned to vehicles with noticeable dirtiness, cigarette burns, or having been disassembled for parts. This intricate grading system enables you to make well-informed decisions when choosing vehicles to import.
Auction Sheet: Table of Alphabetical Grades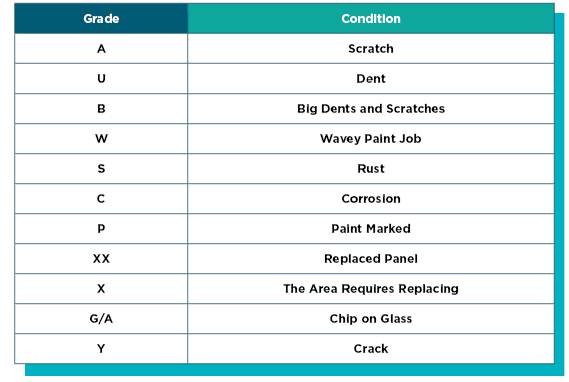 What A, 0, and R Mean in Auction Sheets
A, 0, and R may appear basic, but they are essential information to better understand the history of the vehicle. These letters can appear in different variations such as RS, R0, RA, and A1, each signifying distinct aspects of a vehicle's repair history.
Furthermore, RA, A1, and R1 are indicative of minor repairs, and *** serves to indicate that there are severe mechanical or body-related issues such as engine problems, previous accidents, fire damage, or signs of flooding.
Auction Sheets Interior Grading: A, B, C, D
A typically corresponds to a virtually new interior, while B translates to a clean and well-maintained space. Moving down the scale, C typically represents an average interior showing its age through expected wear and tear.
Lastly, D highlights an interior marred by cigarette burns, odours, rips, tears, and evident damage – a clear indicator of significant wear and tear.
What XX and W Mean on Auction Sheets
XX represents panels that have undergone repair or repainting, while W stands for wavy. W can be an indication that the panel's paintwork has been altered from its original factory state.
W can be marked as W, W1, W2, or W3, these markings serve as a spectrum of visibility with 1 representing the least noticeable alternation.
It is nearly impossible to tell if the paintwork has been altered by the naked eye, so auction house staff will mark it as either W, W1, W2, or W3 when they are unsure.
Abbreviations Found on Auction Sheets
Abbreviations play a significant role in the auction-sheet codes.
SR: Sunroof
AW: Alloy Wheels
PS: Power Steering
PW: Power Windows
AB: Airbags
Auction Sheet Codes for Scratches
A1 typically addresses minor surface scratches which can easily be buffed out. A2 delves deeper into medium-sized scratches that have penetrated the top layer of paint.
A3, on the other hand, represents deeper scratches with more visible and substantial damage that will most likely require a complete paint job.
What Auction Sheet U Pin Dents and B Bigger Dents Mean
U dents are typically dents that a vehicle would get from a parking lot, usually classified as U1 being the smallest to U3 being the largest.
For bigger dents, B1 is categorized as (minor) to B4 (major), each marking the severity of the dent's impact on the vehicle's exterior.
Chips, Cracks, and Paint Damage Found on Auction Sheets
G, X, and occasionally A markings on the windshield reveal small stone chips or scratches commonly caused by routine driving.
Y codes (Y1 – Y4 with one typically being minor and four being major) highlight cracks that are often found in body kits or lights, which is often not an issue as those cracks are easy to repair or replace.
The paint's condition is given its own set of grades. Ranging from P1 to P4, these codes address paint-related problems like fading, scratches, discolouration due to sun exposure, polishing, peeling, crazing, or subpar paintwork. Meanwhile, S and C1 to C4 indicate the presence and severity of rust and corrosion.
When you encounter an "S" or "C1" code on a vehicle's body, it often signifies minor rusting—a stone chip with surface rust or a rust spot on the sunroof's edge, usually manageable with proper care.
However, some instances of "S" in the negative comments section may hint at more severe underbody rust concerns. In parallel, the "C" marking on wheel arches points towards significant corrosion potentially originating from snowy environments.
To ensure the utmost quality, Moana Blue leaves no stone unturned. Our meticulous inspections encompass all potential rust issues, offering you transparency and assurance, even with grade 4.5 vehicles. Your trust is our priority, as we aim to deliver the finest quality in your imported vehicles.
Example of Auction Sheet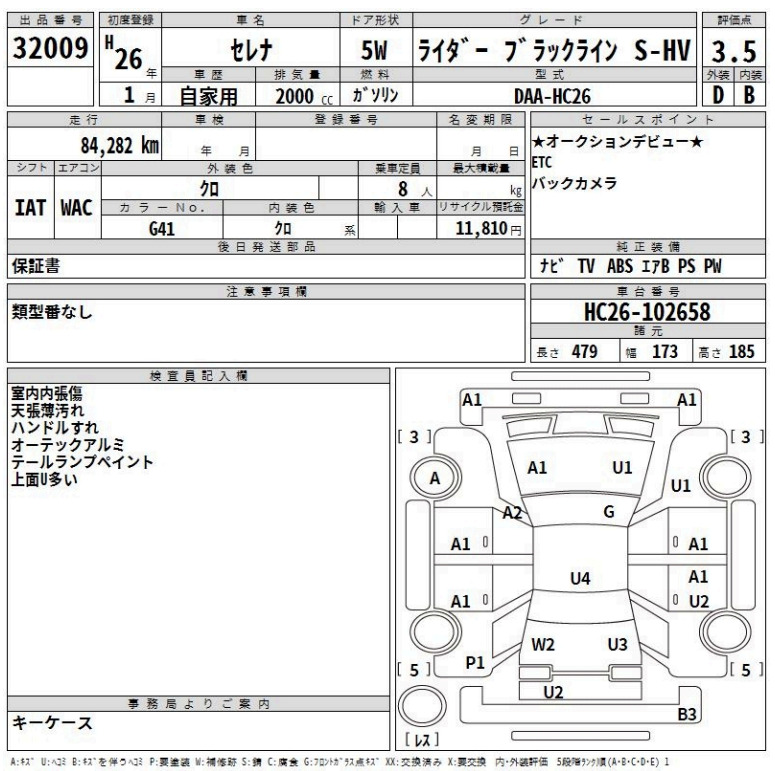 This is what the auction sheet often looks like, detailing the highlights and issues the vehicle has. Below is a translated version of the same copy to help you understand what the different fields mean.
Vehicle Auction Sheet Description Translation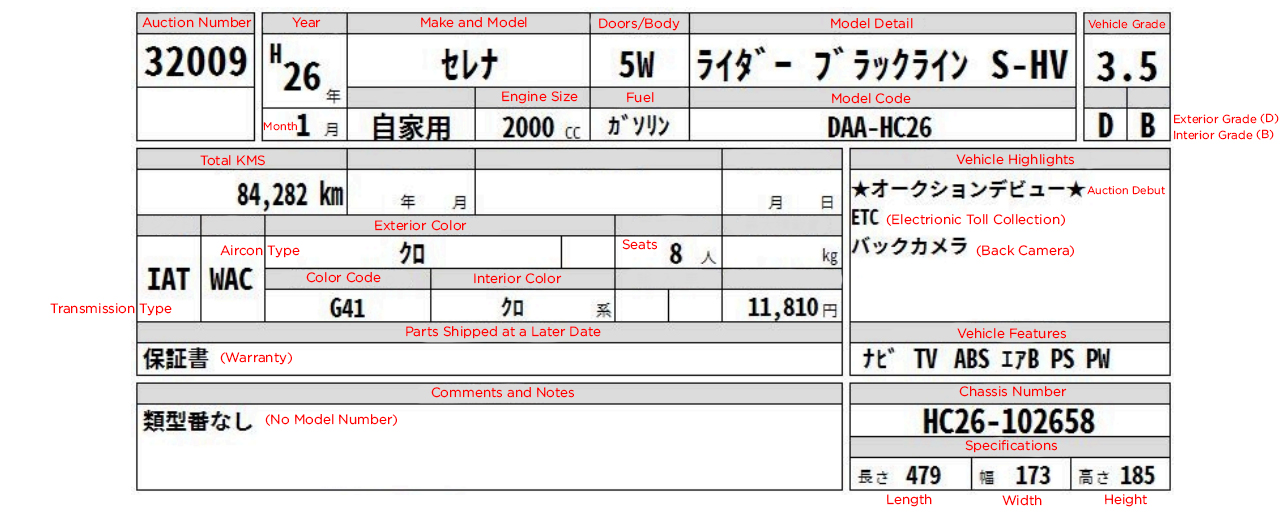 Notes & Comments
Year & Month: 26 Represents how old the vehicle is, meaning this car from 1997 (at the time of this guide). 1 Represents the month, meaning the month would be January.
Total KMs: Some auction sheets put a * to signify that the KMs are unknown. Auctions may put a $ symbol to indicate the total km owner records supplied.
Model Details: The model shows a Serena Highway Star – S-HV.
Vehicle Highlights: This box typically contains the highlights of the vehicle. The highlights of this car are the electronic toll collection device and a back camera.
Vehicle Features: The vehicle features section breaks down what the vehicle has built into it. This vehicle includes a navigation system, TV, anti-lock braking system, braking, power steering, and power windows. Other features can include a sunroof, airbags, alloy wheels, and spoilers.
Comments and Notes: This section will have comments and notes that the auction house finds relevant to mention.
The auction sheet below shows any faults the vehicle has.
Vehicle Auction Inspection Sheet Translation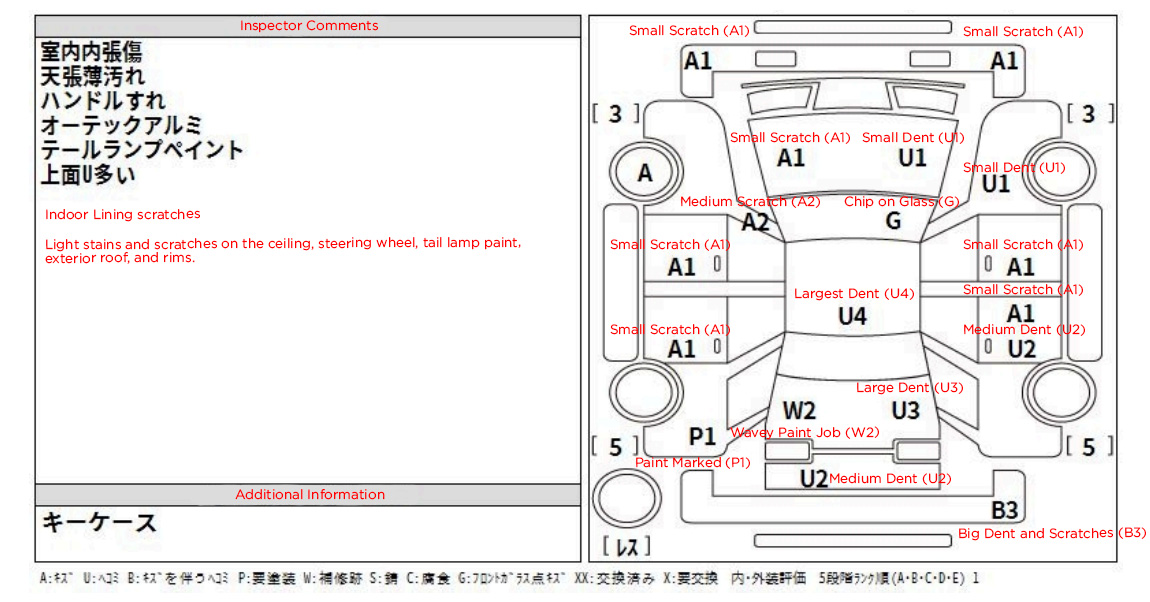 Inspector Comments: This section often has negative comments about the vehicle.
Making Your Importing Experience "Simply Easier"
At Moana Blue, we simplify the complex world of vehicle shipping and logistics. Our mission is to streamline the entire process, ensuring our customers experience a seamless and stress-free journey.
With a dedicated team and cutting-edge technology, we handle the intricate details, allowing you to focus on what matters most. Trust Moana Blue for a service that's more than transportation; it's your pathway to making things "simply easier."
Looking to import your car from Japan? Contact Moana Blue today to request a quote!